11. W. Lake St.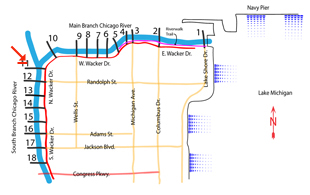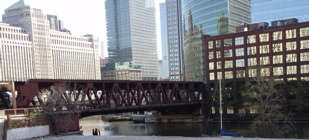 Quick Facts
Date Opened: November 6, 1916

Designers: John Ericson, Thomas G. Pihlfeldt, Alexander von Babo, Hugh E. Young, Edward Bennett

Classification: Double Deck (Rail/auto); Through Trusses

Group Age Ranking: 3rd Oldest

Clear Span: 209 feet (6th longest)

Trunnion-to-Trunnion Span: 245 feet (6th longest – tied w/ North Clark and North State)

Width: 70 feet (8th widest)

Leaf Weight: 2,100 tons (est.)

Height above the Water: 16 feet

Average Daily Foot Traffic (1999): 3,948 (15th most)

Average Daily Vehicular Traffic (2006): 14,500 (8th most)

Average Daily Train Traffic (2007): 526 (est)

Annual Lifts (2006): 44

Last Rehabilitation: 1995

Cultural: Movie - Wanted (2008).
****

--Useful Links--
Chicago Architecture Foundation
© 2008-2018 James S. Phillips
****