14. W. Madison St.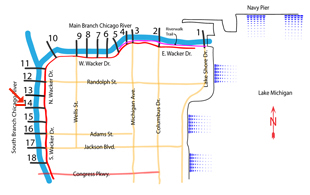 Quick Facts
Date Opened: November 29, 1922

Designers: Thomas G. Pihlfeldt, Hugh E. Young, John Ericson, Edward Bennett

Classification: Single Deck; Rail Height Trusses

Group Age Ranking: 8th Oldest

Clear Span: 189 feet (8th longest)

Trunnion-to-Trunnion Span: 221 feet (9th longest)

Width: 72 feet (7th widest – tied w/ North Wells and North Clark)

Leaf Weight: 1,800 tons

Height above the Water: 16 feet

Average Daily Foot Traffic (1999): 41,586 (highest volume of foot traffic in the group)

Average Daily Vehicular Traffic (2006): 9,900 (11th most)

Annual Lifts (2006): 68

Last Rehabilitated: 1994

Cultural: Featured in two photographs in the book "The Chicago Exhibition" by Michele Fitzsimmons and Diane Schmidt. Named the Lyric Opera Bridge in 1989. Movie: Just Visiting (2001).
****

--Useful Links--
Chicago Architecture Foundation
© 2008-2018 James S. Phillips
****