Torrence Ave Bridge - Calumet River
Henry Ford II Memorial Bridge
The first bridge built at Torrence Avenue was opened to traffic in 1908. The initial bridge was a hand operated pontoon bridge. When open, it provided a 45 ft. wide passage for vessels. In 1913 it was modified to provide a wider passage (70 ft.) and converted to gasoline power. According to the Chicago Public Works Department (CPWD) annual reports it was operated 32,312 times during its life (1908-1937).
I find it interesting that the first successful movable bridge concept (the movable pontoon 1840-1854) was still in use as late as 1908 – no doubt much improved from that earlier era. In studying these annual reports it is apparent that pontoon bridges were used as temporary river crossings during the construction of some of the bascules. The Torrence Ave. pontoon was built as a more permanent structure. During the construction of the current vertical lift bridge the existing pontoon was moved and continued to be used as part of the detour for the project.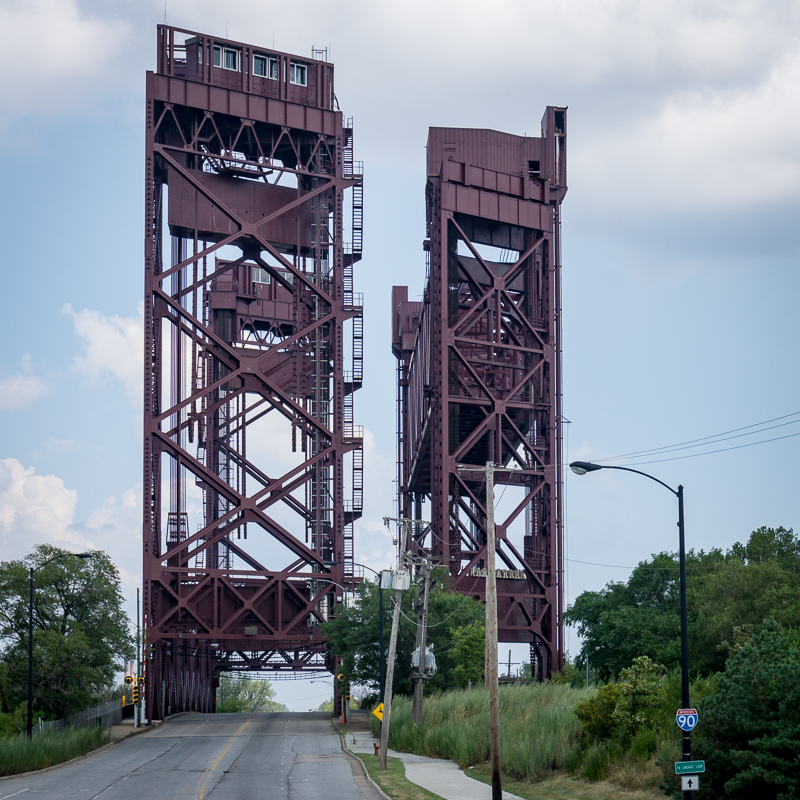 The Torrence Avenue vertical lift bridge is the only non-bascule bridge built by the Chicago Public Works Department (now CDOT). The primary design requirements for this bridge called for a 200 ft clear channel width with a 21 ft clearance over the entire channel.
The alignment of the road and the river were such that the bridge would cross at an oblique angle. To achieve the clear channel design requirements, a bascule would require a distance of about 320 ft between the abutments or about 80 ft greater than the longest span the department had built to that point (Wabash Ave.).
Had this bridge been located downtown, the bascule option might have been seriously considered. Two factors contributed to the choice of the vertical lift option. This is a manufacturing/commercial area where aesthetics are not a major concern and the vertical lift bridge was about half the cost of the bascule option.
The current bridge was dedicated on January 8, 1938. In 1999 the bridge was dedicated as the Henry Ford II Memorial bridge. It was rebuilt in 2011-2012.
Additional information on this bridge can be found at Historicbridges.org.
*****
*****