W. Van Buren St. bridge - opened December 5, 1956
The current bridge at W. Van Buren St. marks 60 years on December 5th. Bridges have spanned this location on the South Branch of the Chicago River for 166 years.
As a well-established river crossing, it was important to maintain traffic on the existing bridge for as long as possible during construction of the new bridge. Chicago engineers pioneered the construction techniques used to build bridge leaves in the vertical position in 1916 at Lake St. By the 1950's the technique had been perfected. This allowed existing bridges to remain in use and lessen the traffic impact during the project as can be seen in this photo.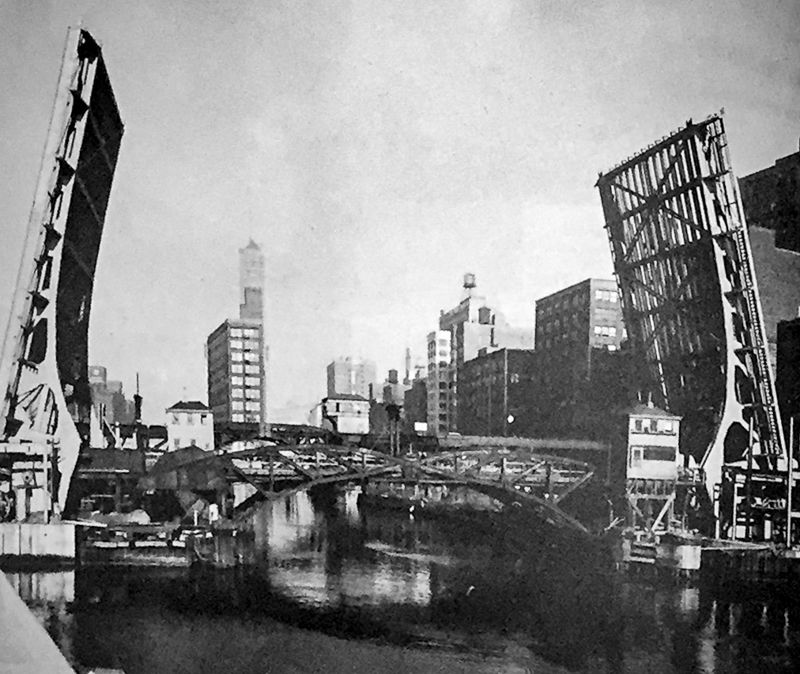 Planning for the bridge began in 1950. By the end of 1953, work on the substructure was about 33% complete. Two years later on November 1, 1955, construction on the new bridge had progressed to the point that the old bridge needed to be removed. Removal of the old bridge was postponed until after the 1955 holiday season at the request Chicago's main post office that was located adjacent to the bridge.
The bridge was dedicated in a ceremony including Mayor Daley and other top city officials on December 5, 1956. The bridge plaque lists the major players involved in the planning, design, and construction of the bridge.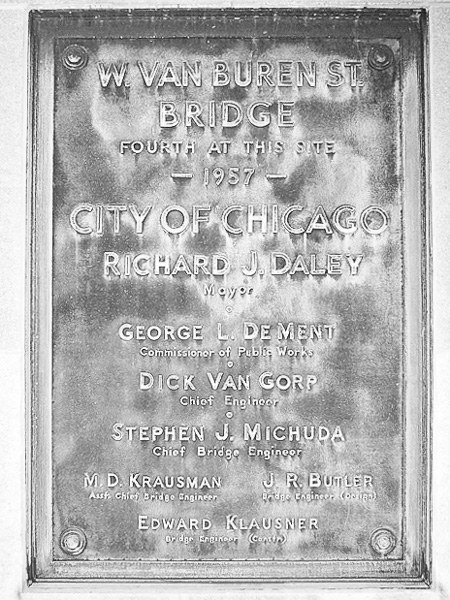 In the 166 year history of the Van Buren St. crossing, Chicago's movable bridge design evolved from movable pontoon spans to center pier swing bridges to bascules. This river crossing has seen representatives from all of these eras. The current Chicago-type trunnion bascule replaced a Scherzer rolling lift bascule built in 1895.
Looking at the annual number of bridge lifts is a way to gauge the change in the volume and type of river traffic in the 1950's to today. During its last full year (1955) of operations the old rolling lift bridge was operated 2206 times. The current bridge was operated 336 times in its first full year of service (1957). That difference is explained by the higher water clearance of the new bridge compared to the old bridge.
Today the bridge is operated approximately 40 times per year mostly for the seasonal sail boat runs to and from Lake Michigan. The majority of the commercial river traffic (sight seeing cruises and barge traffic) do not require bridge lifts.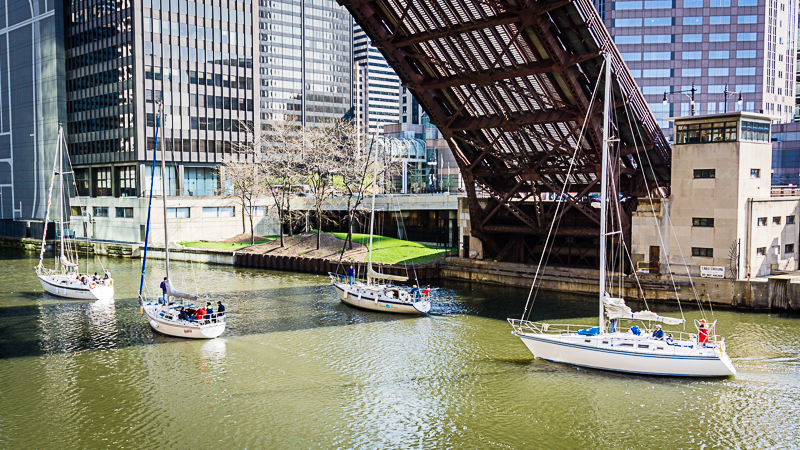 ****