Chicago Type, Double Leaf, Trunnion, Bascule Bridge
The complete title of these bridges is "Chicago Type, Double Leaf, Trunnion Bascule Bridge." While quite a mouthful, this description can be broken down as follows:
Chicago Type describes a design that evolved from research done in the late 1890's by the Chicago Bridge Department to find a patent free design that would accommodate both land and water based traffic;
These bridges rotate vertically about trunnions (axles) on the river bank;
A leaf is the portion of the bridge deck that spans the river. All of these bridges use two leaves to span the river - thus Double Leaf;
Bascule describes a family of draw bridges that use counterweights to assist in the vertical movement of bridge leaf.
There are four eras or generations of the Chicago Type bridge in Chicago. Three of these generations are represented in these eighteen bridges.
First Generation (1902-1910 -- none of the eighteen):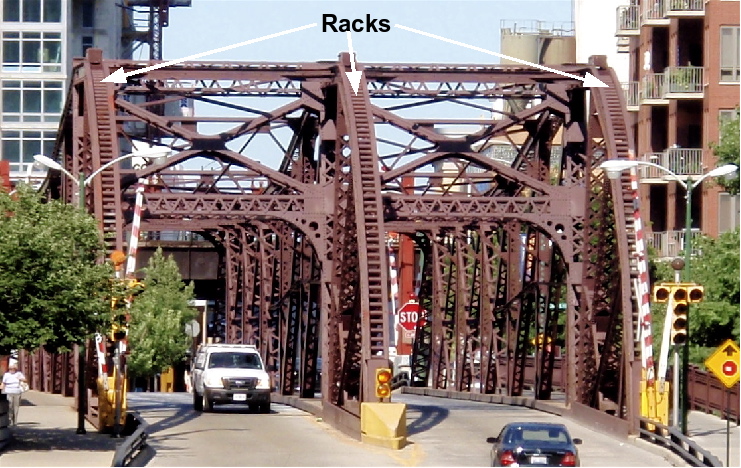 Distinguishing Features: Three Through Trusses; rack and pinion on the outside of the truss. (example shown below is the single leaf bridge at W. Kinzie St. spanning the North Branch of the Chicago River- photo taken looking west from N. Orleans St.)
Second Generation (Beaux Arts - 1910-1930, twelve of the eighteen)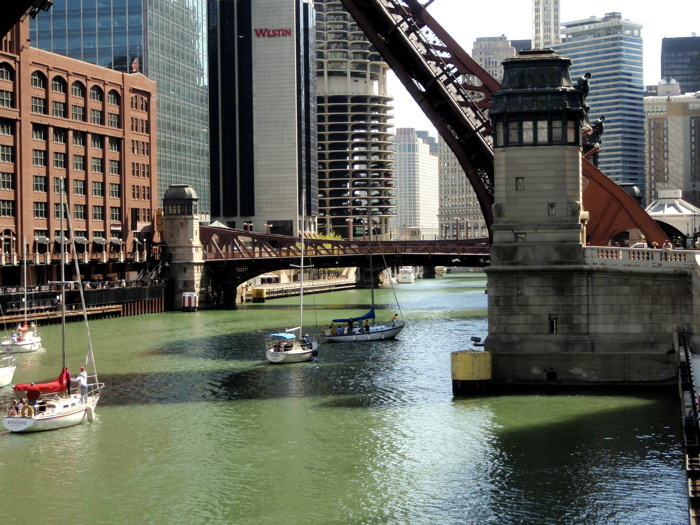 Distinguishing Features: Two Trusses; rack and pinion moved to the inside of the truss; variable truss designs; ornate bridge tender houses, railings, staircases, etc. (examples shown below are N. La Salle and N. Clark St. bridges)
Third Generation (Art Deco - 1935-1950, two of the eighteen)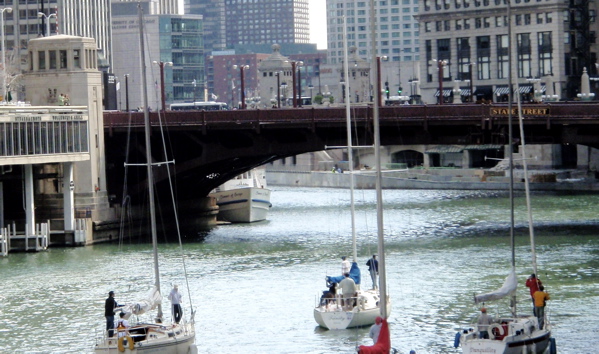 Distinguishing Features: Similar to Second Generation with less ornamentation. (example shown below at N. State St.)
Fourth Generation ("Modern" -- four of the eighteen)

Distinguishing Features: Single bridge tender house; No ornamentation. (example shown below at N. Dearborn St.)